Our Mission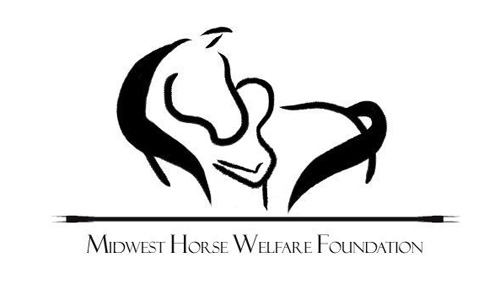 GFAS Verified Equine Charity- a 501(c)(3) non-profit organization.
MHWF is run by 100% volunteers and has no paid staff.
The Midwest Horse Welfare Foundation is dedicated to providing qualified homes for any horse in need. It is our goal to make certain that every horse placed in our care is provided with all the necessary ingredients for a safe and happy life, and that it is also protected from those who would do it harm.
Each horse placed in our care will receive our full efforts to ensure that it never ends up in the auction ring or on the slaughterhouse floor. We promise to do our best to provide only the best homes with dedicated families for every animal we place.
2023 Hay Drive Has Ended!
Click here for more info
---

What is the Midwest Horse Welfare Foundation?
The Midwest Horse Welfare Foundation, Inc. (MHWF) is a charity and nonprofit organization dedicated to finding homes for horses who have found themselves at a transition in their lives. The horses come to us for many reasons and each horse has its own unique story. Everyone involved in our program is a volunteer and 100% of all donations and adoption fees go back into the care of another needy horse. Our policies are the accumulation of years of experience and planning.
Honesty, integrity and transparency. MHWF helps any horses who have found themselves in a transition in their life, whether that means that they wound up in a bad situation, neglected and/or abused, or their person could no longer keep them for whatever many different reasons that may be- they all need a place to go and they all need to be cared for and loved. Many horses wind up in very bad situations of neglect, and not only do we help horses out of those situations and set them back on the right path in their lives, we also aim to keep horses from winding up in those bad situations. We strive to help as many horses as we possibly can and this includes taking in, rehabilitating and finding great homes for horses, as well as helping people through education and helping hand when it is needed. MHWF is dedicated to ensuring that each and every horse gets everything they need which includes proper feed, medical care, training and emotional wellness that includes proper space and capacity for the very best care. MHWF is a no-kill shelter, which means we never have and never will euthanize for space, and there will be horses that may have a long stay at our facility. It's not just about the numbers of horses, it is the quality of care and placement that are paramount to truly be a successful mission of real horse rescue and adoption. MHWF finds safe and wonderful homes for horses, and at the same time, educating people about owning a horse and horse adoption. MHWF wants to see horse adoption be the route that more people choose when looking for an equine partner. We continue to add more ways of showing that rescued and adoption horses are just as great as any other horse out there, including a yearly Fun Show and also the Midwest Rescue Horse Trainers Challenge. MHWF has been doing real rescue and doing it right since 2001.
Thank you...the staff at MHWF Inc.
The MHWF facility is protected by 24 hour video
surveillance and night vision cameras.